Credit card holder wallets seem to be the missing link between money clips and the traditional bifold wallets. Unlike the traditional bifold wallets, credit card holder wallets don't fold open but have a pocket designed specifically for cash besides numerous card slops.
Related: 19 Best Business Card Holder Wallets of 2021
These modern forms of wallets are manufactured using high-quality plastic, leather, jeans, metal, and carbon fiber materials. All these features take us to the description of the best credit card holder wallets in 2019 and their reviews so you may have an easy time when shopping for these accessories.
Our reviews touch many factors such as comfort, storage, ease of use, durability, style, and weight. Also, we discuss the advantages and disadvantages of each product to help you have a clear picture of these credit cardholders.
Best Credit Card Holder Wallets
Best Overall: Bellroy Slim Sleeve Credit Card Holder wallet
Pros
Slim and functional
Unisex wallet
Made of durable materials
Great performance
Fits nicely in the pockets
Cons
A little bit costly
There are cases of stitches coming out
Have easy access to your credit cards and cash without wasting your time and effort. To achieve this feat, you must acquire Bellroy slim sleeve credit card holder wallet. This minimalist bifold wallet gives you a balance of convenience in a small way.
Don't Underestimate it
Even though it's slim, this wallet is not something to underestimate so easily. If you do, just check out its capacity by inserting your cards inside. Your items will easily slip in quickly and come out faster at the touch of a tab included in its design.
A perfect Choice for Your Currency
Much to your delight, you will keep your currency in this wallet and still fit in your pockets nicely. All you need to do is to keep all your essentials together in this slim and stylish wallet.
Cost and Value
By combining style and convenience with safety in one item, you will understand the value of acquiring bellroy slim sleeve credit card holder wallet. Its usefulness to you makes it worth every penny spent on it.
Best Bifold: Bellroy Hide & Seek Slim Leather Credit Card Holder Wallet
Pros
Very practical
Slim
Comfortable
RFID protection
Quick access slots
Cons
Design flaws
Tight slots
Bellroy Hide & Sleek Slim leather credit card holder wallet is a must-have if you value modernity and fashion in one package. Progressive in features and traditional in appearance, this credit card holder gives you an edge over anyone still using the traditional bi-fold wallets.
True to Existing Aesthetics
This classic credit card holder helps you remain true to already existing aesthetics by holding your cards and all your money at the same time. In other words, convenience is out of the question when it comes to retrieving your items from this stylish credit cardholder.
A Unique Way of Keeping your Bills
Bellroy Hide & Seek Slim leather credit card holder features a unique yet functional flap that helps you conceal your large bills from view. At least, this type of concealment will tame your habit of impulse buying or force you to stick to your budget.
Cost and Value
Certainly, this is the most classic and stylish credit card holder wallet that reflects your personality and passion for unique items of value. With that in mind, spend your cash on this item and enjoy its superior features without compromising the security of your credit cards.
Best Tactical: Dango T01 Tactical EDC Credit Card Holder Wallet
Pros
Well designed
Leather multitool
Has more than 14 functions
Lightweight
Can act as a phone stand
Cons
Sharp edges
Difficulties in sliding the multitool
If you are an outdoor enthusiast who appreciates the cleanliness and easy accessibility to your credit cards, then you should look for Dango R01 tactical EDC credit card holder. With its more than 14 functions, this credit card holder provides you enough room to store your valuables.
Secure Your Information
Keep your personal information safe from electronic pickpockets by using Dango R01 tactical EDC credit card holder. Equipped with RFID security, this credit card holder assures you of the safety of your details in your credit or debit cards.
Enough Capacity
Apart from safety, this slim wallet can hold 4 cards at the front pocket and the other 4 at the backplate. On top of that, there is the MT02 Multi-Tool installed complete with an assortment of small tools like the ruler, nail pryer, hex wrenches bottle opener a sharp, serrated-edges rope tensioner.
Cost and Value
Dango R01 tactical EDC credit card holder is crafted from high-quality carbon and stainless steel materials to give it unmatched durability compared to other similar items. So, investing in this item is the best idea for you.
[wbcr_text_snippet id="714″]
Best Aluminum: The Ridge Credit Card Holder Wallet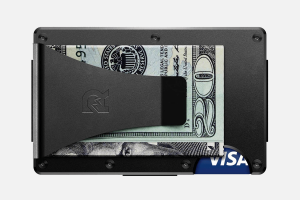 Pros
Compact design
Comfortable
Designed for durability
Very convenient
Cons
Limited dexterity
Somehow difficult to use for new buyers
You may streamline and simplify your life with the Ridge Credit card Wallet Authentic. Minal in design, this product occupies small space and can sit well in your front pocket. The RFID blocking assures you of maximum security to your personal information contained in your credit cards.
The Quality You Can Trust
The Ridge-Wallet Authentic was built with functionality in mind. That's why high-quality accessories and durable metal are included in its design to last you a lifetime.
Cost and Value
Despite its minimalist design, this credit card holder gives you the real value for your money. This is because its main compartment holds up to 12 of your cards and other items of value. Additionally, the integrated money clip lets you keep several bills inside this wallet.
Best Metal: Trayvax Element Credit Card Holder Wallet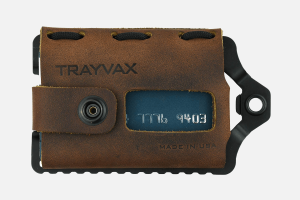 Pros
Rugged
Durable
Rigid but practical
Versatile
Bottle opener, suitable for parties
Cons
Uncomfortable
Pricey
Featuring a tough stainless steel plate and top grain oil tanned leather material, this wallet is built to last a lifetime. Additional features such as the integrated money clip, built-in bottle opener, RFID protection, and attachment point are included to give you confidence when using it.
Slim, Tough and Stylish
Despite its slimness, you can still slip it into your front pocket and feel comfortable walking around with it. Also, the wallet is tough enough to withstand any form of outdoor pursuit and stylish enough to complement your fashion.
Minimalist Indestructible Wallet
The solid stainless steel is combined with top grain leather to create a compact, yet easy to use credit card holder wallet for you. This accessory can hold 10 cards and 5 bills using its integrated money clip.
Cost and Value
From its superior features, you can tell that this brand of wallets is secure and more convenient. That is the reason you have to spend a little more to have only the best out of it.
Best Flat: Bellroy Micro Sleeve Slim Leather Credit Card Holder Wallet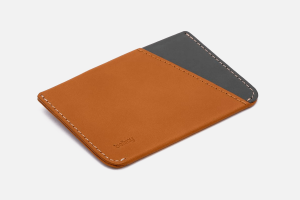 Pros
Excellent front pocket slim wallet
Quick access pockets
A nice leather finish
Minimalist simplistic design
Easy to draw your cards
Cons
Stretches after sometime
It is expensive
Bellroy Micro Sleeve slim leather credit card holder wallet is can keep your cash and credit cards safely. The external slots on this wallet can take up to 4 cards at once. The 4 slots on this wallet are strategically placed to help you to quickly reach out to your cards and cash every time you need them.
A Wallet with a Tailored Fit
Bellroy Micro Sleeve credit card holder wallet is super slim to fit nicely in your pockets and still walk around comfortably. This is because the micro sleeve smoothes away your pocket lines to give you a tailored fit.
An Intuitive Experience
To achieve a slim fit, the micro sleeve is built in to prevent the center bill pocket from jamming when cards are placed on either side. This is more or less the same as an intuitive experience underpinned by the creative hinging of the leather material used in its construction.
Cost and Value
Even though it shares most of the features with other minimalist credit card holder wallets, its style remains unique. This makes its price to be justifiable given that it will meet all your daily needs.
Best Magnetic: HOJ Co.IVAR-ID Bifold Credit Card Holder Wallet with Money Clip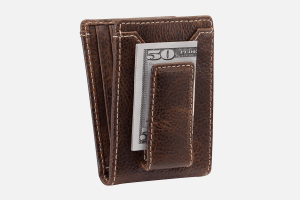 Pros
Strong magnetic money clip
Good looking wallet
Well designed front pocket
Affordable wallet
Cons
It looks bulky when loaded
Too heavy
Its design combines the versatility of bifold wallets with the practicality of the strong magnetic money clip. These two features are combined into a single design to provide you with all your needs when it comes to wallets.
Built to Function
This product is designed primarily with day-to-today use in mind. HOJ Co.IVAR-ID credit card holder wallet features natural grain leather, a multi-card interior layout and an exterior ID window for storing your items.
Easy to Retrieve Your Items
Even though it is super slim, you can easily retrieve your cards and bills without wasting any time. You can make it quick by simply pinching open the central pocket to take out your cards when necessary.
Cost and Value
The uniqueness of every wallet from this brand comes as a result of grain variance and color shading. Even though no two wallets resemble each other, these products have almost similar features that define their functionality and quality. Spending your money on these wallets is a wise idea and a great investment if you care about your valuables.
Best Waterproof: SlimFold Minimalist Credit Card Holder Wallet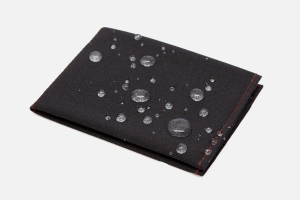 Pros
Made of very strong materials
Durable
RFID blocking technology
Super slim and functional
Cons
Issues with stitches
It's flimsy
This credit card holder can take up to 8 cards despite being thinner than leather. Besides, it can protect the titanium surface of the Apple Card against scratches or discoloration. The RFID blocking feature ensures that information in your cards remains safe all the time.
Slim, Compact and Organized
The wallet's unique configuration makes it compact and organized much to your delight. The ID window is skillfully stitched to hold your documents in place. Each slot can keep up 2 cards nicely by stretching to the size of the contents inside.
Environmentally Friendly Materials
If you look carefully at this credit card wallet, you will see a 'bluesign' to let you know that the materials used in its construction are environmentally friendly. Nevertheless, the material is costly per square inch compared to most leathers. That explains why it is the durable and most preferred material for this type of wallet.
Cost and Value
Given that this item is crafted from one of the most expensive and environmentally friendly materials, spending something extra on it is not a bad idea. After all, this product will serve you better and for a very long time.
Best Front Pocket: Saddleback Leather Co. Slim Leather Credit Card Holder Wallet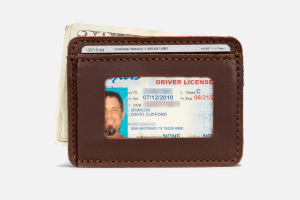 Pros
The wallet is convenient
An extended warranty period (100 years)
Quality handmade wallet
Unisex wallet
Cons
Edges stick out when mishandled
Difficulties when retrieving cash
This award-winning wallet is sleek and slim enough to sit comfortably in your front pocket. The wallet is designed for both men and women, so you may purchase it as a gift to your loved one.
A Wallet Engineered to Perfection
Saddleback credit card holder wallet is over-engineered to perfection with the top quality materials that can withstand anything. Just like the popular briefcases, these wallets are carefully stitched with the long-lasting marine grade polyester threads to make it stronger.
An Extended Warranty
You can imagine how it feels to own a wallet that comes with a 100-year warranty. This is not just an ordinary wallet but something crafted to last longer and give you value for your money.
Cost and Value
Compared to other brands of credit card holder wallets, this one takes the first slot and for obvious reasons. This wallet boasts of superior features that raise the bar when it comes to its value. Even though it may not be cheaper, you will finally agree that its price tag matches its quality.
Best Slim Bifold: SERMAN BRANDS Slim Bifold Leather Credit Card Holder Wallet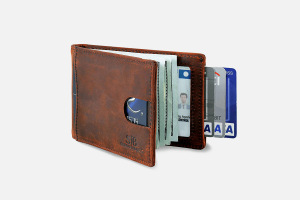 Pros
Compact wallet
Enough capacity
Easy access to the cards
Money clip holds the bills and other documents well
Cons
It stretches out after a few months of use
Scratches easily
SERMAN BRANDS bifold credit card wallet come with a 12-month warranty that covers all factory defects. Sadly, the warranty is not transferable and only remains valid to the first buyer.
Maximum Security and Privacy
This credit card holder wallet was equipped with RFID technology to protect your cards from electronic pickpockets. This feature ensures that your details remain private and that only you can access it.
Slim and Stylish
Crafted from high-quality full grain genuine leather, this wallet remains the most stylish and trendy item you can find on the market today. Besides, it's minimalist and likely to maintain the slim appearance even if it's loaded.
Cost and Value
Despite the unique features of this wallet, it's still affordable and cost-effective. Even though their warranty is only one year, the benefits of owning SERMAN BRANDS RFIDBlocking wallets are just right for their value.
Best Money Clip: TRAVANDO Credit Card Holder Wallet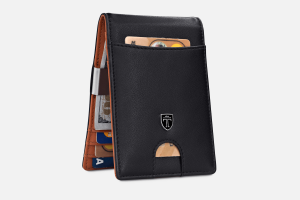 Pros
A low profile wallet
Slim enough for the front pockets
High quality and affordable wallet
Strong and long-lasting
Cons
The money clip is too tight
No ID window
With 7 card slots, this slim wallet offers enough capacity to keep and carry your credit cards wherever you go. Using its outside notch, you can easily retrieve your cards more conveniently.
Maximum Security
Having been tested and proven to be secure, TRAVANDO credit card wallet is the right card holder wallet you can rely upon. This brand of wallets can block up to 13.56Mhz band, leaving your documents secure and fully protected against the RFID scanners.
Refined and Stylish
Designed for style and convenience, this wallet combines quality, elegance, and convenience to make your life easy. At least you can confidently show it off to your friends to symbolize your newly acquired status.
Cost and Value
TRAVANDO credit card wallet will give you value for your cash once you start using it. This is because this brand of wallets are designed to last longer while protecting your valuables everywhere you go.
Best Minimalist Bifold: SERMAN BRANDS Bifold Leather Credit Card Holder Wallet with Money Clip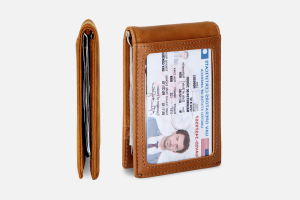 Pros
RFID blocking technology
Versatile
Fits well in the front pocket
An attractive slim profile
Cons
Loose money clip
Limited slots for credit cards
Just like other wallets that are crafted from top-grain leather, SHERM BRANDS bring you comfort and convenience when carrying your credit cards or bills. Despite being loaded, these wallets still maintain their slim appearance throughout.
Compact and Intuitive Design
These brands integrate smart pull tabs in their design for easy access to your cards and cash. They also include a built-in RFID blocking technology for safety reasons.
A Wallet For Your Daily Needs
Finally, you have found a wallet that will cover your daily needs. This credit card holder wallet has a front pocket for your cards, two pockets inside, one ID pocket and a money clip. The case has a pull-strap for easy access to your cards.
Cost and Value
This wallet is built for those who value the style, the safety of their valuables and privacy. If you are one of them, this is the right brand to spend your money on.
Best Trifold: HIMI Leather Trifold Credit Card Holder Wallet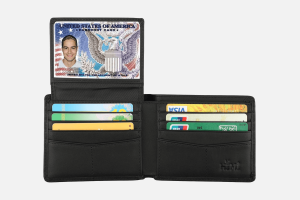 Pros
Great capacity
Durable leather material
Blocks RFID signals
Well designed and versatile
Cons
A glitter effect on certain color options
Slight plastic smell
HIMI credit card holder wallet is crafted from genuine vegan tanned cowhide leather material. That's why it has a nice smooth texture and comfortable touch. This should tell you that the materials used in making these brands of wallets are environmentally friendly.
Great Features
This credit card holder wallet features 2 ID windows, 8 card slots and extra 2 slots located at the back. All these slots enable you to carry your cards and cash to meet your daily needs.
Compact Design
Due to its compact design, this credit card holder is a superb choice of accessory to travel with. Besides keeping your cards and money safe, it has the RFID technology to protect information from your cards from reaching the wrong hands.
Cost and Value
HIMI credit card holder is affordable despite its great features and breathtaking design. The best part of this wallet is that it comes in many color options for you to choose from according to your taste.
Key Considerations
Comfort
Credit card holder wallets for men are built with a lot of consideration to suit the needs of different users. One of the considerations in designing these classic and stylish wallets is comfort. We all like comfort in every aspect of day to day life. And this is one particular feature you need to consider when purchasing your dream wallet. So, how does it come about?
For you to know the comfort of the wallet you are about to choose, you need to consider the type of materials used in making it. While some wallets are crafted from top-grain genuine leather, others are made from carbon fiber, metal or any other suitable synthetic materials.
Mostly, leather and synthetic wallets lead in popularity due to other factors besides their comfortability. In this case, ensure that you choose the right wallet that has all the desirable features including comfort.
Storage
One thing that gives certain brands of wallets an edge over others is the storage. This factor plays a crucial role such that it determines the number of cards and the amount of cash you can carry with you. Different brands have different capacities with some holding as high as 12 cards at once while others keeping as low as 4 cards.
This creates a huge difference but it boils down to an individual, needs, preference, and budget. For instance, you will not settle for a wallet that has 12 card slots when you only have 8. You will consider taking a wallet that suits your daily needs. So, the storage of each wallet is one of the key considerations that was used to determine the suitability of a certain brand of wallets.
Ease of Use
Even though wallets are designed to keep your most precious items, you need to look further and understand how each of them works. While others are simple in design and ease of use, some are crafted with extra features that you need to be familiar with.
For instance, you may want to understand how to use the money clip in order to hold your bills in place. On the other hand, you may need to learn how to use wallets that are equipped with RFID technology to keep your information safe. Luckily, most of these wallets come with all the relevant information that will guide you on their usability.
Durability
The main difference between different brands of wallets is their durability. This feature defines how long each brand will last after purchasing and start using it. Some may last for a year, two years or even longer than you ever thought.
Cheaper wallets are more likely to last you a couple of years and cost just a few coins, But top quality wallets are known to have an enduring value, meaning that they can last longer than the inexpensive ones if they are well cared for.
All these qualities play a critical role in deterring the durability of your wallet. Most importantly, the choice of material and the technique used in the construction of a particular wallet determine the durability.
Style
Sometimes wallets can turn out to be boring to look at. For example, brown and black wallets have renders these accessories less interesting to hold and even show off to your friends. But numerous companies have managed to change the game by getting a little more creative when it comes to designing their respective brands of wallets.
For them, producing forgettable wallets is no longer part of their strategy considering that the competition is very stiff from other manufacturers. For that reason, many wallets have been created to go beyond serving a basic function to include style in their designs. Details such as contrasting interior colors, monogramming, contrasting stitches and exotic materials are used to create unique styles that entice buyers.
Weight
As it seems, nearly everything has been reduced in size as well as in weight. This concept has been introduced to different brands of wallets both for women and men. Hence, the growing popularity of slim, sleek or minimalist wallets that can fit comfortably in your pockets.
No wonder the traditional bulky wallet is no longer as popular as it used to be in the recent past because of its weight and larger size compared to the current types of slim wallets. With that in mind, you should consider a wallet that is both functional and lightweight to look part and parcel of our modern society.
Final verdict
Although there are dozens of different brands of credit card holders on the market today, choosing the right one can be a challenge for you. Based on the description and reviews above, you can easily narrow down your search and land the best product that will serve you better. So, look stylish and protect your money including your credit cards by acquiring one of these brands when you go shopping next time.